Diffuser Jewelry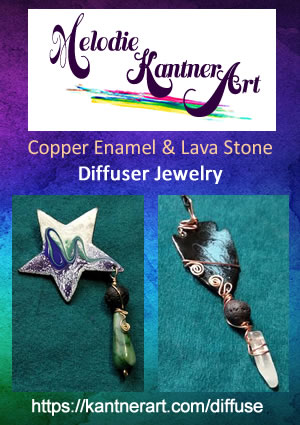 Looking for a unique, one of a kind gift for yourself or someone you care about?
This diffuser jewelry is made with copper enamel with gemstones and lava stone for the added benefit of making it a diffuser for your favorite essential oils.
I use high quality sterling silver, stainless steel, gold filled and copper wire. I NEVER use silver or gold plated wire.
Copper enameling is an art made by kiln firing powdered glass and glass chunks to copper in a kiln at 1450°. The 'swirling' of colors is done with a metal rod through a hole in the kiln lid while the glass is molten.
Each piece is an original work of ART that would make a is unique, one of a kind gift.
I have been making copper enamel art jewelry for over 30 years. I used to earn a living with it but since I started with Young Living Essential Oils over 24 years ago, I earn my full time income with Young Living Essential oils.
Even though I earn my living with Young Living, I need to have some playtime by making jewelry. I have a LOT that I have made over the past 24 years. I figured I may as well put it online. The boxes of jewelry are piling up around here. 😉
I will be adding my wire wrapped lava stone art jewelry soon. I have only just begun adding my art online.

Copper Enamel Art and Lava Stone Essential Oil Diffuser Jewelry