Young Living has over 20+ years experience in business and has several farms and distilleries. Young Living has the world's largest herb farms for the production of essential oils.
No other essential oil or network marketing company does what Young Living Essential Oils does to produce the highest quality essential oils, growing from seed, harvesting, distilling, producing, formulating, packaging, and marketing Premium Standard Essential Oils.
Young Living's Seed to Seal process is what makes us head and shoulders above the rest.
Did You Know?
Young Living fields are not touched with anything chemical. Much more expensive but the only real way to have organic essential oils!

Weed control is maintained by hoeing and hand pulling. No chemical weed killers are ever used.

Every Young Living farm has an organic composting yard. Plant matter from the distillation go in, no waste! 5 million tons of compost used annually on YL fields!

Young Living injects microbes & enzymes into soil, also liquid from worm castings for fertilizer

Aromatic plants need a ph balance of 7-7.8! Who knew?! Gary Young did!

Extensive laboratory testing and independent audits are conducted to ensure Young Living's quality exceeds industry standards. Those with even the slightest hint of possible impurity are rejected.

Young Living works with 7 independent labs around the world to determine the properties and purity of Young Living essential oils.
For us, the non-negotiable benchmarks for delivering a product that our members can feel great about are multifaceted, exacting, and above all-concrete. We're proud to offer an extensive line of authentic, essential oil-infused solutions that represent the best of nature: all purity, no compromises, through the standards of our groundbreaking Seed to Seal program.

Seed to Seal is our set of standards that ensure that with every targeted supplement, every skin care solution, and every essential oil your family uses, you're enjoying the benefit of our global resources, industry leadership, 20+ years of innovation. The result? A pristine final product that you know has been created with conscientious sourcing, science, and standards.

These three aspects of production contain our concrete steps for delivering transformative, innovative, and Premium Standard products to you. The standards are demanding, but a product is only as good as the process that created it, and we're committed to a quality process far beyond all industry expectations to transform your life for the better.

Because synthetics, contaminants, cheap fillers, and unethical production practices are not an option for the products in your home, Young Living Executive Vice President of Operations Lauren Walker guides the process of sourcing products from carefully vetted suppliers and testing them extensively. If our exhaustive tests show that a product doesn't meet our standards, we don't buy it or we reject the batch.
PARTNERSHIP PRINCIPLES
We source from our corporate owned farms, as well as partner farms and Seed to Seal certified suppliers. This empowers us to source conscientiously and with sensitivity to local communities and ecosystems. We vet and select our like-minded suppliers according to five principles: Established Relationships, Seed to Seal Specifications, Binding Agreements, Stringent Testing, and Ongoing Audits.
FORMULATION AND PRODUCTION
Our superior oils and ingredients deserve facilities and formulas to match. Our expanded distribution center in Spanish Fork, Utah, is a state-of-the-art facility where we use best manufacturing practices to test essential oils, ingredients, and products and to formulate and manufacture the innovative offerings you love.
THIRD-PARTY SUBSTANTIATION
When it comes to our partnerships, we trust but verify. To ensure that inferior or unethically sourced ingredients don't find their way to your door, we use an extensive, full-access system of internal and third-party audits to monitor our supply chain.

We insist on essential oils, products, and ingredients that have passed our stringent, unyielding quality benchmarks. Premium Standard, effective ingredients that meet our demanding scientific standards are certainly more expensive, and formulating innovative offerings takes time, but we know you'll appreciate authentic products that you can rely on without a second thought.
INDUSTRY-LEADING RESEARCH
While our product quality starts in the fields, it's proven in the lab with research led by Chief Science Officer Dr. Mike Buch. With his team's combined 180 years of experience, they use advanced testing processes in our state-of-the-art labs to ensure that an inferior product never slips by.
THIRD-PARTY TESTING
Product testing doesn't take place exclusively in-house. We also test product samples as needed with two independent, respected, and accredited labs that employ certified chemical analysts with over 300 years of combined laboratory experience.
INNOVATIVE PRODUCT DEVELOPMENT
We create our effective formulas with the cleanest and most innovative ingredients available. We also focus on what's not in the formulas. We've developed an expanding list of 20 potentially harmful or harsh additives that may appear in mainstream products but will never be found in our line. Get all the ingredients you want and none of the ones you don't.

As the leaders of the modern essential oils movement and a close partner with the earth, it's part of our stewardship to do business responsibly-from sustainably sourcing rare botanicals, to uplifting local communities, to going above and beyond to comply with local environmental rules. The goal? Offering a Premium Standard product that you know is part of a greater good.
TOP-TIER STANDARDS
Inexpensive essential oils are often synthetic, adulterated, or unethically sourced, which is why we choose to partner with sources we know produce essential oils and ingredients ethically and legally, setting a top-tier standard for sustainability.
SUSTAINABLE COMPLIANCE PROGRAM
Not only is our compliance program exhaustive, but it's also the first of its kind in the industry. It is the gold standard for compliance programs, and we are proud to have gone above and beyond to establish it. We have engaged top legal experts around the world to keep us advised of the most current laws, as well as to inform us how to appropriately apply them to our most important business needs. The program ultimately determines several specific legal factors associated with botanical harvesting in order to protect delicate landscapes, plants, and wildlife, including knowing where, how, how much to plant and harvest, and more. These steps provide even more evidence that Young Living is the industry leader in compliance.
INDUSTRY GREEN LEADER
Our efforts go beyond a conscientious supply chain. Young Living's commitment to sustainable business includes reforestation of harvested trees; recycling at Young Living offices; and the construction of our brand-new, LEED-certified headquarters in Lehi, Utah. These efforts collectively add up to an industry-leading effort to respectfully partner with the earth.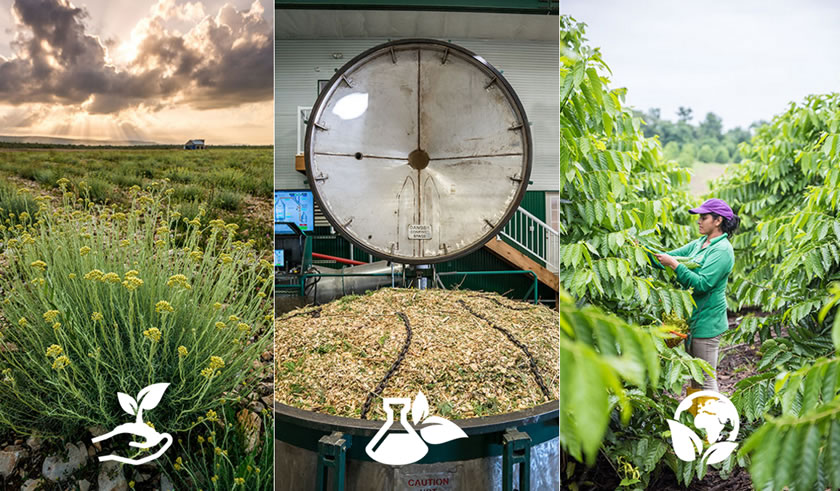 ---
Young Living Farms
Whispering Springs
Mona, Utah, USA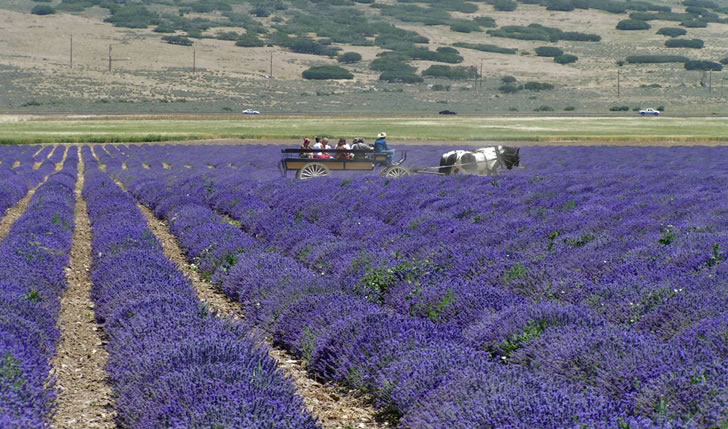 The Young Living Whispering Springs Farm is an iconic lavender farm, not only to Young Living but also to the essential oil movement and the wellness community. Located in Mona, Utah, this lavender farm is just a short drive fromYoung Living Global Headquarters and is home to events such as the Lavender Day festival, the Essential Oils and Animals Conference, and more.
Farm Fact: The Mona lavender fields and farm span nearly 1,600 acres, and the venue is home to one of the largest privately owned essential oil distilleries in the world.
Oils from this farm:
Lavender essential oil | Hyssop essential oil | Clary Sage essential oil | Peppermint essential oil | Goldenrod essential oil | Balsam Fir essential oil | Melissa essential oil | Roman Chamomile essential oil | Juniper essential oil |
---
| | | |
| --- | --- | --- |
| View 6 minute Young Living Farms video: | | View 2 minute Young Living Farms video: |
---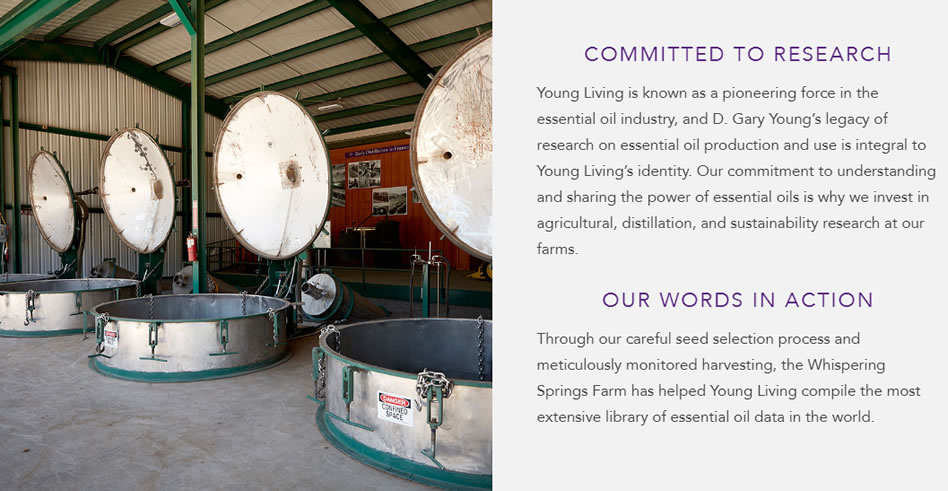 ---
Skyrider Wilderness Ranch
Tabiona, Utah, USA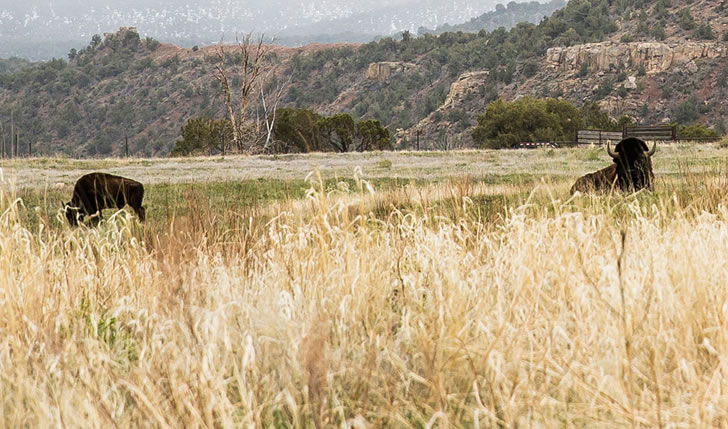 Although this ranch is one of our newest locations, many Young Living global leaders have attended retreats and events hosted at the beautiful Skyrider Wilderness Ranch. Nestled in the hills of Tabiona, Utah, and home to stunning vistas and wildlife, this farm is close to Gary Young's heart. It's a location where our unique einkorn grain can grow, as well as a place where Gary can perform research on distillation methods and new botanicals.
Products from this farm:
Gary's True Grit Einkorn Flour | Gary's True Grit Einkorn Pancake and Waffle Mix | Gary's True Grit Einkorn Rotini Pasta | Gary's True Grit Einkorn | Gary's True Grit Einkorn Granola
---
St. Maries Lavender Farm
St. Maries, Idaho, USA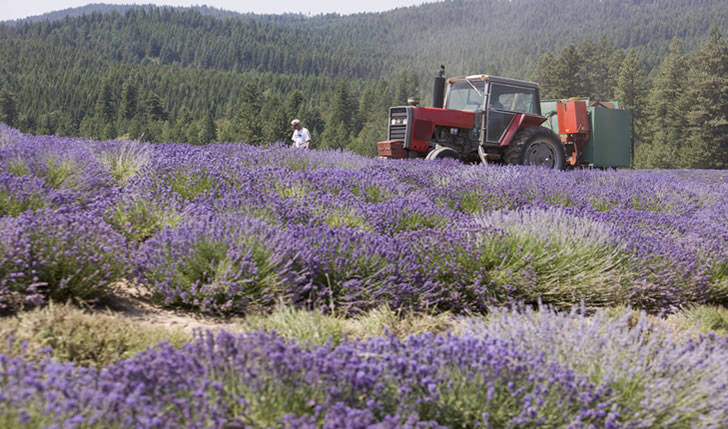 Our St. Maries Lavender Farm is where everything started! In 1993, Gary Young brought lavender seeds from Provence, France, and planted them on the 200 acres of land that now make up this beautiful farm. Today, this farm helps produce our famous Lavender essential oil and other botanicals.
Oils from this farm:
Lavender essential oil | Melissa essential oil | Idaho Tansy essential oil
View 8 minute Young Living St. Maries Farm video:

---
Highland Flats Tree Farm
Naples, Idaho, USA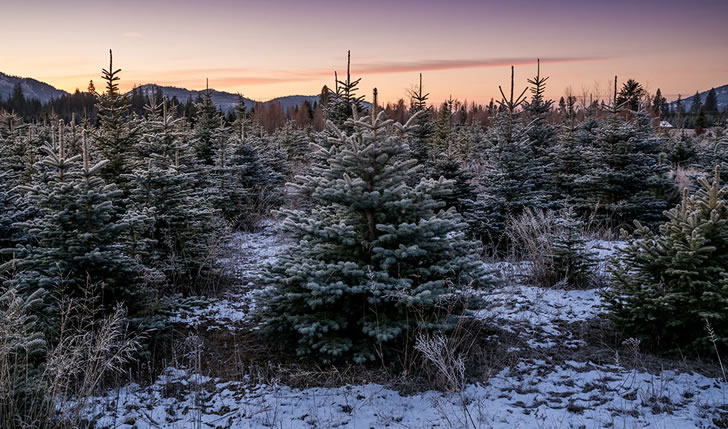 Located in scenic Naples, Idaho, the Highland Flats Tree Farm is home to some of the beautiful evergreen trees that help Young Living produce essential oils inspired by the great outdoors. This location is not only a blue spruce farm but is also home to one of the world's largest essential oil distilleries. It's the location of Young Living's annual Winter Harvest and Spring Planting projects, which allow members to participate in the Seed to Seal process firsthand.
Oils from this farm:
Idaho Blue Spruce essential oil | Balsam Fir essential oil | Pine essential oil | Idaho Ponderosa Pine essential oil | Western Red Cedar essential oil
---
Northern Lights Farm
Fort Nelson, BC, Canada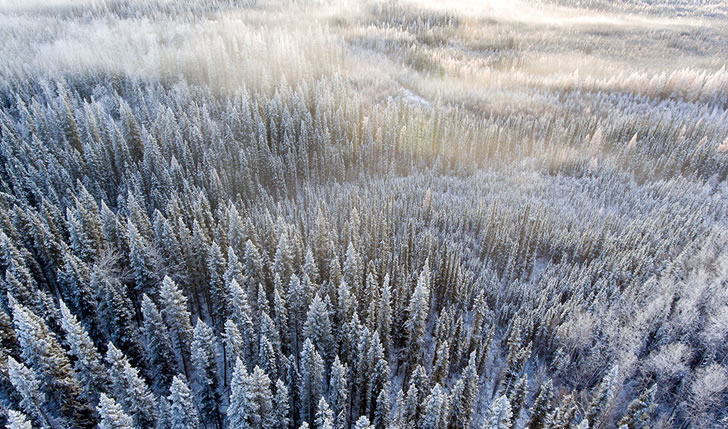 In 2014-after extensive scouting and research to find the best possible location-Young Living purchased land in British Columbia, Canada, for the Northern Lights Farm. The pristine land remains free of synthetic chemicals and fertilizers, thanks to its relatively untouched nature prior to Young Living's ownership.
Farm Fact:This farm is already a main source of Black Spruce essential oil, an important oil in many popular blends, including Valor II, Shutran, Harmony, Awaken, and Envision.
Oils from this farm:
Northern Lights Black Spruce essential oil | Ledum essential oil | Yarrow essential oil
---
Kona Sandalwood Reforestation Project
Big Island, Hawaii, USA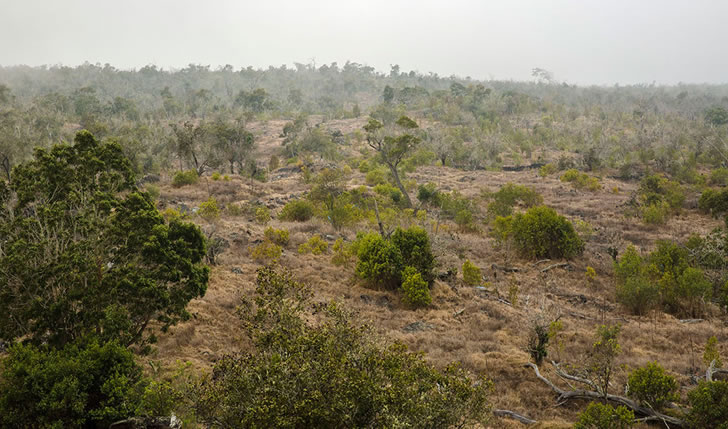 Young Living's partnership with the Kona Sandalwood Reforestation Project is a great example of how Young Living and our partnerships strive to preserve cultural values. At this location, only dead or dying sandalwood is harvested to maintain the ecological balance on the island and to follow the deeply rooted Hawaiian belief in humans' respectful relationship with the land.
Oils from this farm:
Royal Hawaiian Sandalwood essential oil
---
South America
Finca Botanica Farm
Guayaquil, Ecuador
Building this farm and its state-of-the-art distillery started as one of Gary Young's passion projects. Today, Guayaquil's tropical climate helps nurture Young Living's 2,000 acres of rich soil, year-round harvests, and lush botanical life.
Oils and products from this farm:
Ylang Ylang essential oil | Palo Santo essential oil | Mastrante essential oil | Lemongrass essential oil | Eucalyptus Blue essential oil | Dorado Azul essential oil | Ocotea essential oil | Plectranthus Oregano essential oil | Rosa Muerta essential oil | Chocolate
---
Asia
Arabian Frankincense Distillery
Muscat, Oman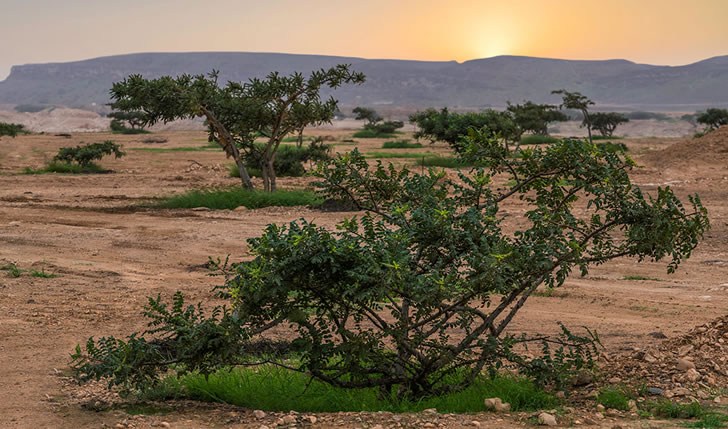 The limestone cliffs of Oman's Dhofar Mountains provide the perfect environment for the frankincense tree to grow, and Young Living is the first and only company in the world to obtain permission to distill and export Omani Sacred Frankincense oil and bring it into the Western world. The Boswellia sacra trees in this region carry a rich history, having been harvestedfor the past 5,000 years. Today, their resin is harvested by the same method and on the same schedule as their ancestors, so they continue this centuries-old story.
Oils from this farm:
Sacred Frankincense essential oil | Myrrh essential oil
---
Maydi Frankincense Distillery
Dubai, UAE
This region has long revered frankincense and myrrh for their luxurious fragrances and properties. The esteemed benefits of the myrrh tree and frankincense tree are now available to homes around the world, and Young Living's longstanding partnership has played an integral role in the process of making Frankincense oil more accessible.
Oils from this farm:
Frankincense essential oil | Myrrh essential oil
---
Taiwan Cooperative Farm
Taitung, Taiwan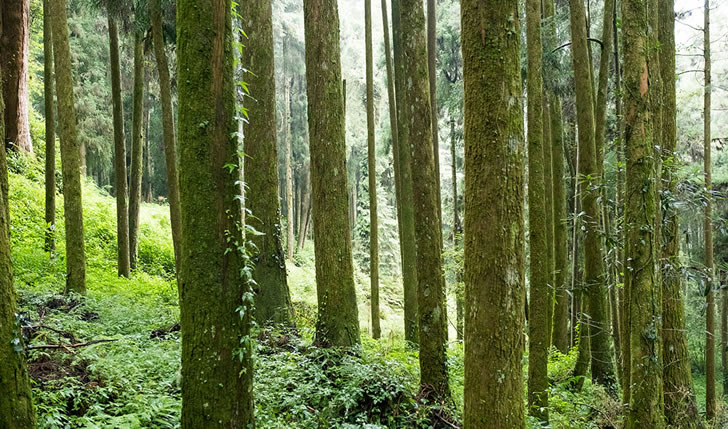 This cooperative farm is actually made up of smaller individual farm operations that each focus on different oils. Like each unique operation, each oil has its own story and background that include its preservation, generational history and family significance, and the ingenuity and innovation necessary to create it.
Oils from this farm:
Jade Lemon essential oil | Hong Kuai essential oil | Xiang Mao essential oil | Camphor Wood essential oil
---
Australia
Outback Botanical Reserve
Darwin, Australia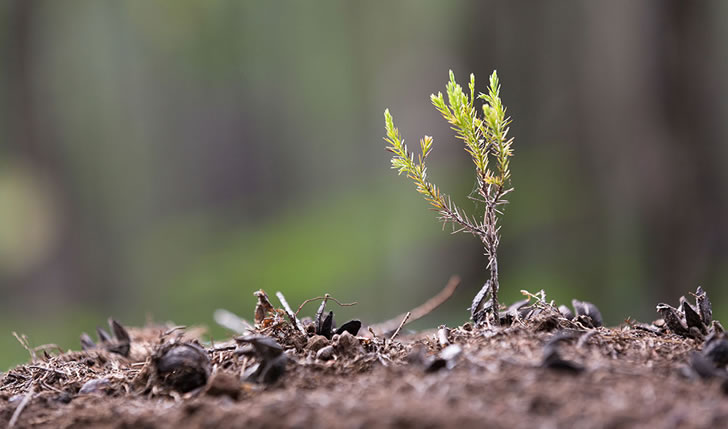 Australia's Northern Territory outback sets the stunning backdrop for this location's plantations of Australian cypress pine trees. Drawing on ethnobotanical use in the aboriginal pharmacopeia, the founder of the Outback Botanical Reserve actually stumbled upon a new, now patented method of distillation that resulted in Blue Cypress essential oil. This oil's many benefits are still being researched to this day.
Oils from this farm:
Blue Cypress essential oil
---
Quintis Sandalwood Farm
Perth, Australia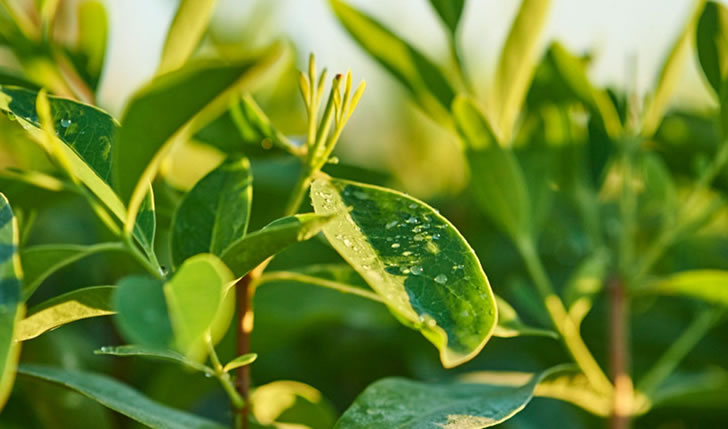 While this farm is headquartered in Perth, the sandalwood plantations extend across Australia's tropical northern outback. This location utilizes a remarkable approach to protecting precious sandalwood trees from India's growing black market by bringing seeds from India to be cultivated on this farm. Once safely planted in their new home, these trees are cultivated with the industry's highest standards of quality, sustainability, and environmental stewardship.
Oils from this farm:
Sacred Sandalwood essential oil
---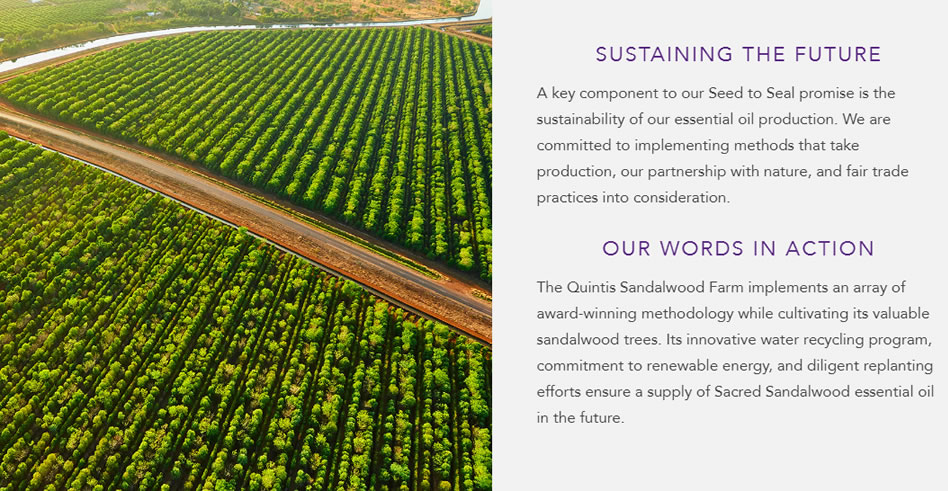 ---
Europe
Simiane-la-Rotonde Lavender Farm
Simiane-la-Rotonde Lavender Farm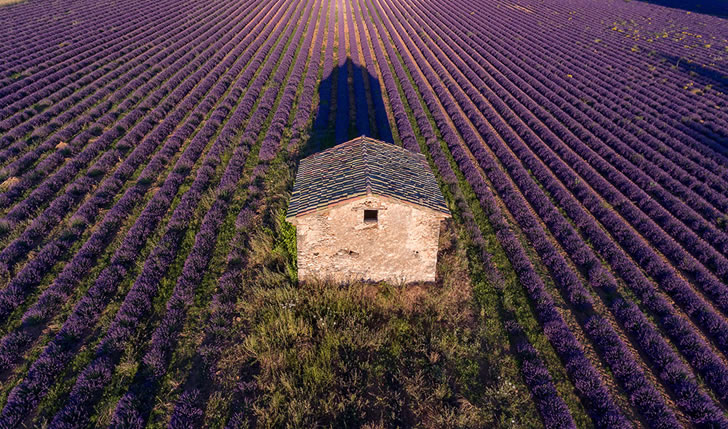 Young Living's Simiane-la-Rotonde Lavender Farm is located in charming Provence, a region of France renowned for its beauty, fragrant lavender fields, and summer-long festivals. Because of its history and breathtaking views, this farm has become a popular destination for essential oil lovers, artists, and visitors looking to breathe in the captivating spirit of the special location.
Oils and products from this farm:
Lavender essential oil | Clary Sage essential oil | Rosemary essential oil | Lavandin essential oil | Gary's True Grit Einkorn Flour | Gary's True Grit Einkorn Pancake and Waffle Mix | Gary's True Grit Einkorn Rotini Pasta | Gary's True Grit Einkorn Spaghetti | Gary's True Grit Einkorn Granola
---
Dalmatia Aromatic Farm
Split, Croatia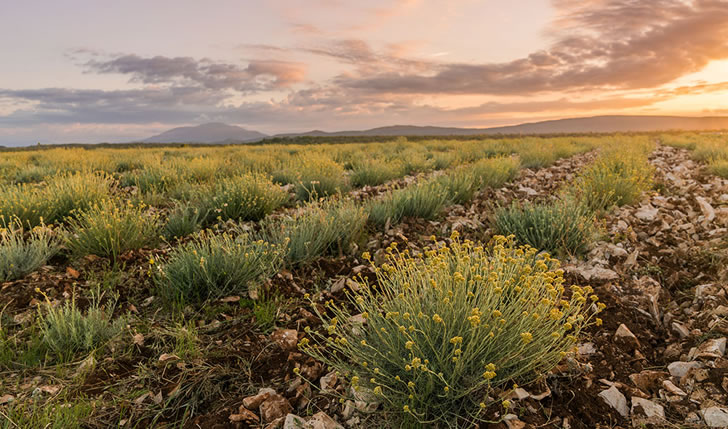 Dalmatia's striking and historic landscape reflects its deep cultural roots and makes an ideal home for the botanical helichrysum. That's why this farm was founded with the intention of becoming a sustainable source for the popular Helichrysum oil, but the location has since continued to grow and cultivate even more botanicals.
Farm Fact: Rocks were transplanted to the helichrysum plantation to replicate the natural growing conditions of the previously wild-crafted plant.
Oils from this farm:
Helichrysum essential oil | Sage essential oil | Juniper essential oil | Bay Laurel essential oil