Today's lifestyle is fast paced and seems to get faster all the time. Sports and recreation and just every day living can take it's toll on our muscles and joints. Especially as we get older we really begin to feel the effects of all the years of overwork on joints.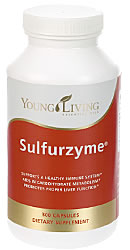 Young Living's Sulfurzyme product combines pharmaceutical-grade MSM with the power of Chinese Ningxia Wolfberries. MSM (methylsulfonylmethane) is a natural sulfur-bearing nutrient that occurs widely in nature (found in everything from mother's milk to fresh vegetables). MSM supplies this vital building block nutrient to your cells. Sulfur is so important for healthy hair, skin, nails, and connective tissues. In fact, it is a key building block of every single cell membrane in your body.


Wolfberries are a treasure trove of protein, amino acids, and more than 21 minerals. It is not well known, however, that in order for the sulfur to be properly metabolized, the body requires important trace minerals like molybdenum. That's why Sulfurzyme is so effective, combining sulfur with wolfberries allows MSM to be completely metabolized. Together, wolfberries and MSM offer powerful support for muscles, joints, and skin.


Sulfurzyme is a combination of Methyl Sulfonal Methane (MSM) and Lycium Barbarum (Chinese Wolfberry) that together with ionic minerals create a great support to the immune system and also is supporting almost every major body function, and forestalling an array of degenerative conditions. I am ever more appreciating this as I am in my 50s and noticing the effects of age. 😉


When our bodies grow older and are chronically shortchanged of key minerals like sulfur and MSM, the bonds between our cells become increasingly rigid and brittle — a condition that can lead to a loss in skin flexibility and contribute to skin wrinkles. The internal manifestations of this cellular brittleness are far less visible but have a far greater negative impact on the body. MSM's ability to reintroduce flexibility into cell structures, therefore, can have widespread restorative effects.
MSM is a natural sulfur that helps build the amino acids responsible for protein building and muscle formation. MSM has the ability to equalize water pressure inside of the cells. This is helpful to support healthy joints and tissues.


The Sulfurzyme ingredient, Chinese wolfberry, has been used in Asia since ancient times for its benefits against aging and for supporting healthy vision, kidney, and liver function. Wolfberry is higher in vitamin C than ascorbic acid, higher in beta carotene than carrots, and higher in amino acids than bee pollen. Wolfberry is very high in antioxidants.


Visit the link below to read about how Sulfurzyme is making my gray hair disappear.
Young Living Sulfurzyme For Hair and Skin

Click HERE to order Sulfurzyme