Check out the Young Living Monthly Promo!


Every month Young Living rewards you with FREE products just for ordering. When your order reaches the qualifying PV amount, usually $100, $190, $250 and $300, the oils of the Monthly Promo are automatically added to your Young Living order FREE. You don't have to be enrolled in the Essential Rewards Program to get promo oils but, when you are on Essential Rewards you also get get the ER Exclusive Oils. That's even more value for your dollar.


Essential Rewards is the most economical way to order. Not only do you get the ER Exclusive oils but also, when you are on Essential Rewards, you acquire ER Points for every dollar you spend. Redeem your Essential Rewards Points for even more free products. Don't you just LOVE to get good stuff FREE?! The longer you are on the Essential Rewards Program, the higher your ER points will be. Check out the Monthly Promo graphic below.


Taking advantage of Young Living's Monthly Promo along with the Essential Rewards Program is the best way to build up your arsenal of oils, as you are supporting your family's healthy, chemical free lifestyle.


Plus, when you subscribe to YL Go your order is shipped FREE.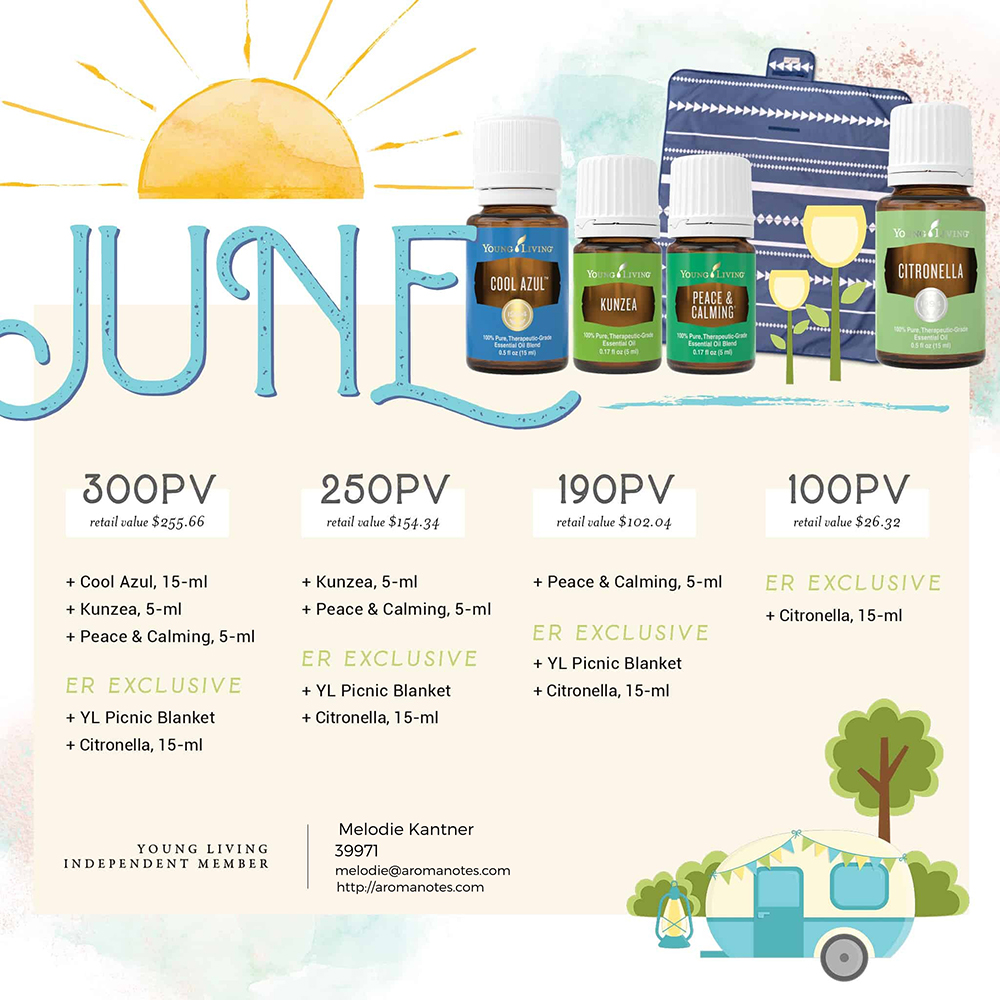 Young Living Monthly Promo Details for July 2019
10 ml Valor Roll-On – Stay strong with Valor Roll-On. Apply Valor Roll-On and enjoy the empowering aroma while you tackle every item on your summer to-do list. Swipe for confidence. Wear Valor as your signature fragrance for a bold scent that inspires on-the-go courage.


5 ml Lemon Vitality – Start your day the right way. Add a drop or two to a glass of water for an invigorating citrus flavor as you go from groggy to go-getter. Cook with a twist. Refresh old recipes with Lemon Vitality for a bright burst of flavor in marinades, vinaigrettes, baked goods, and more.


5 ml Lavender Vitality – Get your zzz's. Encourage a good night's sleep by adding a drop or two of Lavender Vitality to your bedtime glass of water.
Meet your new secret ingredient. From sweet Lavender lemonades to savory marinades, you'll find dozens of uses for Lavender Vitality in the kitchen.


Mason Jar Mug with Stainless Steel Straw – Save the sea turtles. Bring our mason jar mug and stainless steel straw with you to restaurants, the office, and anywhere else you'd ordinarily use plastic to help keep the oceans safer for wildlife. Pass on plastic. Embrace a greener lifestyle with one simple swap from landfill-bound plastic to our reusable glass and stainless steel straw.


Young Living Seedlings Wipes – Soothe with Lavender, soften with aloe. Seedlings Wipes are gentle on your baby's skin but strong enough to handle the day's messes. Beach be gone. Effortlessly remove sand, sunscreen, and saltwater from fingers and toes with these refreshing wipes.


15 ml Peppermint – Ignite like the sky on the Fourth of July. Diffuse Peppermint oil in your home to spark the senses and get motivated to tackle your summer to-do list. Relax and rejuvenate. Apply this popular oil to your sore muscles after chasing the kids through sprinklers or dab it onto your neck to feel instantly refreshed.

Essential Rewards Exclusive:
LavaDerm Cooling Mist – Don't sweat the small stuff. Spritz this heaven-scent mix of Lavender and aloe vera whenever you need some cooling relief.
Love your skin with LavaDerm Cooling Mist. Infused with aloe, Lavender, Northern Lights Black Spruce, and Helichrysum, this rejuvenating spray calms and moisturizes sun-kissed skin.


Essential Rewards Exclusive:
Grapefruit Lip Balm – Help sunny smiles go the extra mile. Nourish your lips with our Grapefruit- and antioxidant-infused lip balm.


Not a Young Living Essential Oils member yet?
Click HERE to set up your account with Young Living Essential Oils