The Story of Thieves Oil
Young Living's Thieves essential oil blend was created based on the historical tale of four thieves in Europe who protected themselves with cloves, rosemary, and other aromatics while robbing the dead and dying. When captured, they were offered a lighter sentence in exchange for their secret recipe.


Young Living's proprietary Thieves oil blend includes clove, cinnamon bark, rosemary, lemon, and Eucalyptus radiata and has been specially blended to offer the same kind of defense as it did in the fifteenth century. Thieves has been university tested and found to be highly effective in supporting a healthy immune system. Clove oil, an ingredient in Thieves, has an ORAC score of over 10,000,000. Clove oil is the highest rated antioxidant in the world.
Thieves essential oil blend is highly concentrated, a drop or two works wonders.

A Few Ways to Use Thieves Oil
1. Put a drop of Thieves on your hands and rub together to clean your hands after touching doorknobs or shopping cart handles or other surfaces in public places.
2. Put a drop on your hands, rub them together, then cup your hands loosely over your nose and mouth while inhaling.
3. Rub 1 drop onto the bottoms of your feet before heading out for the day.
4. Purify the air by diffusing Thieves in your home and office. Diffuse only 10 minutes a.m. and p.m.
5. Put 4-5 drops on a wash cloth to and tumble with the laundry in the dryer freshen laundry.
6. Drop on stubborn adhesives, such as glue and chewing gum, to remove from surfaces.
7. Drop 4-5 drops on a tissue and attach to an air vent to freshen a hotel room.
8. Add a drop or two of Thieves to mop water to add extra cleaning power and a fresh scent.
9. Make a deep-cleaning scrub by combining baking soda, Thieves Household Cleaner, and 2 drops of Thieves to form a thick paste.
10. Add a few drops of Thieves to your DIY deodorant recipe for an aromatic boost.
11. Make a deodorizing room and linen spray by combining 4 drops of Thieves with water in a spray bottle and spraying around the house.
Thieves Vitality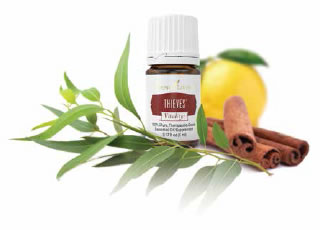 Try these simple suggestions to incorporate Thieves in the body for extra support.
12. Add 2-3 drops of Thieves into an empty vegetarian gel capsule and take internally.
14. Add 1-2 drops into a spoonful of Young Living's Blue Agave for a little support for your healthy immune system.
15. Add 1-2 drops of Thieves Vitality to your herbal tea for a little support for your healthy immune system.
16. Add a drop to your toothbrush before brushing for an even fresher experience!


Order Young Living's Thieves Vitality essential oil blend