The Law of Attraction is an amazing energy. It is always at work. We attract whatever matches the energy or vibrations we are sending out or radiating. If we have a fearful energy because we are listening to the news and hearing about how bad the economy is, we will attract negative things. It becomes more difficult to attract the abundance we want in our life.
I have been using Young Living Abundance oil for many years. It was the essential oil I used when I got started in with Young Living in 1997 and it is the reason I am building a business with Young Living Essential Oils today.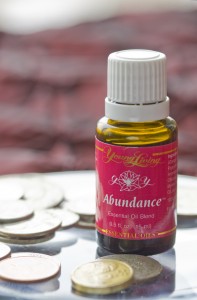 Abundance oil raises your energy to a more attracting energy. It also is very mood uplifting. Abundance is a wonderful oil to enhance the Law of Attraction. EFT is also a powerful tool to use along with the law of attraction. Put EFT and Abundance oil together and you have a really powerful tool to attract abundance.
Daily EFT can really set the tone for your abundance energy as you set about to do the daily tasks in your business. Not only does EFT help remove fears but it also enhances the law of attraction.
If you are in any kind of business, you need to have a good energy that attracts abundance and success. This good abundant energy is needed in all aspects of our life, not just business. We can be abundant in all kinds of ways. When we have a good positive energy, we have a better mood and things just seem to work better. We have more fun in our life. Abundance overflows into all areas of our life.
The EFT tapping session in the video below is full of positive affirmations around attracting abundance. Put a couple drops of Abundance oil blend on your fingertips and begin tapping.