Spicy taco salads are among my favorite meals. I usually add lots of cilantro and hot peppers to any salad. I love cilantro and lime together. I am always experimenting with cilantro combinations for sauces, soups and salads. I recently made this Cilantro Lime Sauce made with added Lime Vitality Essential Oil. This was really tasty. I made a large batch of the sauce and had it on several salads over the week. It's a new favorite.
The pulled pork recipe makes 8 4oz servings. It's great for a family gathering or putting half in the freezer for quick meals when you have busy times.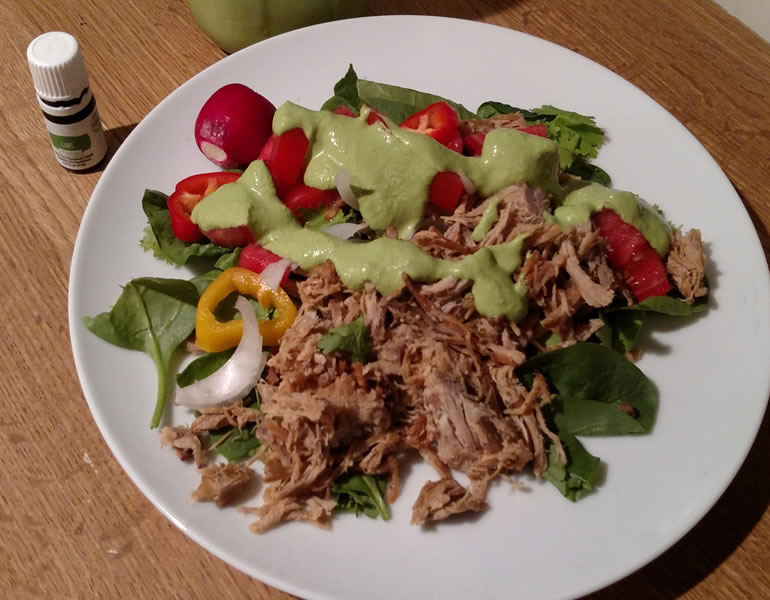 Spicy Pulled Pork Salad With Cilantro Lime Sauce Sauce


Ingredients for Cilantro Lime Sauce


¼ cup oil
¼ cup water
½ cup chopped green onions
½ cup cilantro leaves
2-3 cloves garlic
½ tsp salt
5 drops Lime Vitality Essential Oil
½ cup sour cream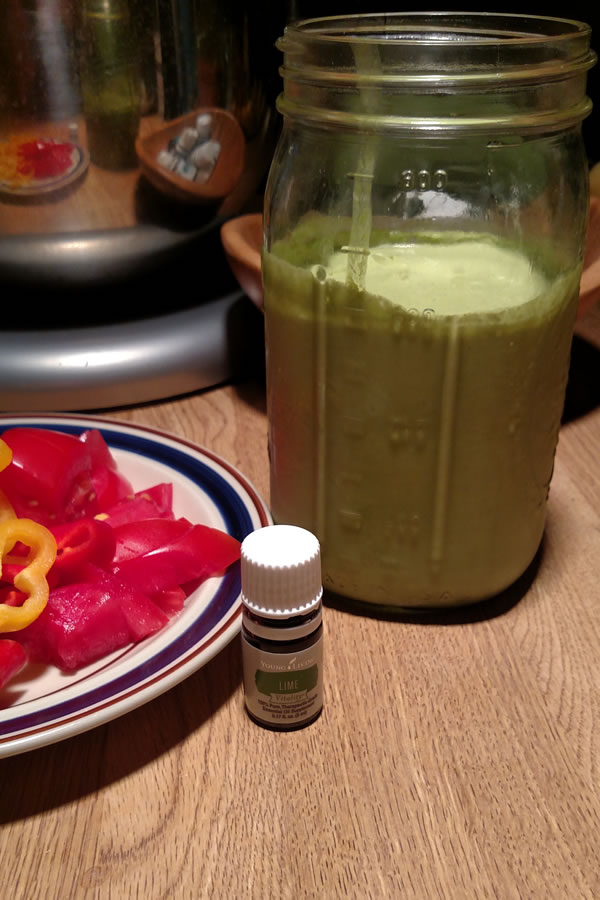 Ingredients for Spicy Pulled Pork Salad


4 lbs pork shoulder
1 tbsp salt
1 tsp pepper
2 Tbs. Chili Powder
2 Tbs. Cumin
½ tsp. Cayenne Pepper
1 medium onion, chopped
3 garlic cloves, chopped
1 cup chicken broth


2–3 cups shredded lettuce & spinach
1–2 small bell peppers, sliced
2 tomatoes, diced


Remove twine from the pork shoulder. Score the meat, then sprinkle seasonings over the pork shoulder and rub them in. Put the pork in your crock pot along with chopped onion and garlic. Pour in the chicken broth. Cover and let cook on low for 8-10 hours.


After the pork shoulder is cooked, transfer it to a large bowl and shred with two forks. Drain the liquid out of the crock pot but save the onion and garlic. Add the onions and garlic to the pulled pork and mix to combine. Taste test at this point and salt if necessary.


Directions for Cilantro Lime Sauce:
Pulse all the sauce ingredients except the sour cream in a food processor. When mostly smooth, add the sour cream and pulse until combined. Taste and adjust as needed. Set aside.


Serve pulled pork on a bed of lettuce and spinach, sliced peppers and chopped tomatoes.
Top with Cilantro Lime sauce until it the vegetables are coated to your liking.

The Cilantro Lime Sauce works well with chicken or beef as well.



Nutritional Info:


Pulled Pork 4 oz:
Calories 364.3; Carbohydrate 1.0 g; Protein 26.6 g


salad:
Calories 113.5; Carbohydrate 10.2 g; Protein 2.4 g


Total:
Calories 477.8; Carbohydrate 11.2 g; Protein 29 g