A nice bowl of soup on a cold day really hits the spot. Well, really any old day. I like cream of broccoli soup but I have been thinking lately about making a batch of Cream of Asparagus Soup. We often have steamed asparagus as a side dish and sometimes waste the tough ends. I always save the tough ends of broccoli and cauliflower for making vegetable puree for soups or whatever else sounds tasty. When pureed and mixed with the other vegetables, it gives you a nice batch of soup with extra for another meal. That's what got me thinking about saving the tough ends to add to broccoli or cauliflower soup. Or, better yet, make Cream of Asparagus Soup.
This soup was a hit with my hubby so I will be making this one often.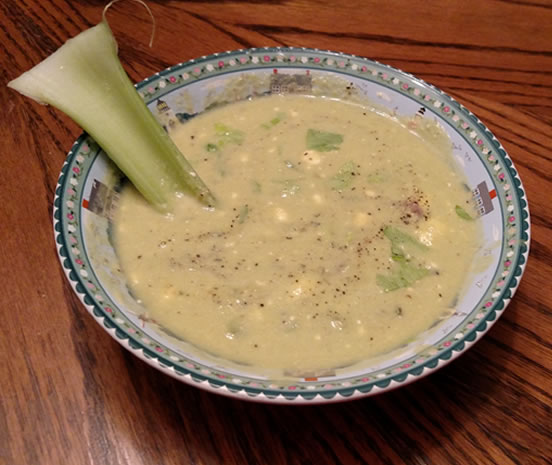 You will need:
1 pound fresh asparagus
1 large onion, chopped
2 stalks celery with green tops
1 clove garlic
3 tablespoons butter
3 cups chicken broth
4 ounces cream cheese
2 drops Lemon Vitality Essential Oil, or to taste
2 drops Black Pepper Vitality Essential Oil, or to taste
salt
You could try other Vitality Essential Oil flavors like Lime, Thyme, Basil, Oregano.
Directions:
In a steamer, steam the asparagus until bright green and just tender. No more than 5 minutes. Cut the tips off asparagus.
About one inch long. Set those aside.
Cut the remaining asparagus stalks into 1 inch pieces. Cut celery in 1 inch pieces.
In another saucepan, celery, cook onion and garlic in 2 tablespoons butter over moderately low heat, stirring, until softened.
Add asparagus pieces and salt and pepper to taste, then cook, stirring, 5 minutes.
Add 3 cups broth and simmer, covered, until asparagus is very tender, 15 to 20 minutes. Remove from heat and let cool slightly.
Puree in a blender until completely smooth. Return mixture to pan. Reheat soup while slowly stirring in cream cheese and butter.
Season to taste with salt and Vitality Essential Oils. Toss in asparagus tips and stir in.
Optional: Garnish with a few pieces of celery leaf.
Serve hot or chilled.
I hope you enjoy it as much as we did.