Ingredients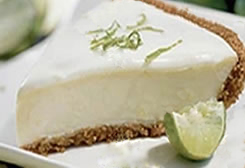 For the filling:
2 cream cheese (8 oz. each and room temp.)
2 cup heavy whipping cream
1/4 cup water
1 packet plain gelatin
1/2 cup Swerve (powdered) (or sweetener of choice)
1/4 cup fresh lime juice
8 drops Young Living Lime Vitality Essential Oil
20 drops of Stevia extract


For the crust:
1 cup almond meal
1 cup shredded coconut (non-sweetened)
3 TBLS. butter (melted)
1 tablespoon Yacon Syrup
2 TBLS. Swerve (or sweetener of choice)


Directions:
Preheat oven to 350 degrees F. Spray grease a 9″ springform pan. Mix the crust ingredients and press into the bottom of the pan. Bake for approx. 12 minutes, or until it starts to get lightly browned. Allow to cool.


In a mixing bowl, beat the cream cheese until smooth. In separate bowl, beat the whipping cream to soft peaks.


In a saucepan on the stove, sprinkle the gelatin over the water–let rest for about 1 minute. Then stir in the Swerve, lime juice, Lime Vitality Essential Oil, and Stevia drops. Turn the heat on low and stir until the sugar dissolves.


Pour the gelatin mixture slowly into the cream cheese. Turn the mixer on medium and keep blending until the mixture has a smooth texture. Then fold in the whipped cream.


Spoon the mixture onto the crust and spread evenly. Garnish with toasted coconut and grated lime. Refrigerate for a few hours, then remove the springform.