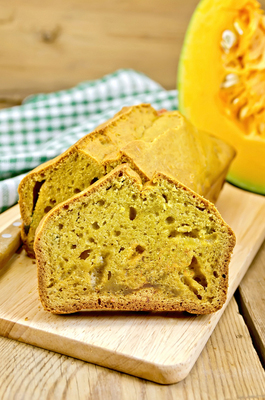 3 cps. coconut sugar (or substitute 1 1/2 cup with ¾ tsp. stevia extract).
1 cup. shortening (or organic coconut oil.)
3 eggs beaten
2 cup canned or frozen pumpkin (or substitute butternut squash)
1 tsp vanilla
3 cups Gary's True Grit Einkorn Flour
1 tsp salt
1 tsp soda
½ tsp baking powder
¾ tsp allspice
3 drops Young Living Cinnamon Vitality Essential Oil
3 drops Young Living Nutmeg Essential Oil
3 drops Young Living Clove Essential Oil
Procedure: Cream sweetener and shortening. Add pumpkin and vanilla. Sift dry ingredients and add to creamed mixture. Set aside and beat 3 eggs, and add to mixture.
Bake in a greased cake pan in oven for 1 to 1 ¼ hrs at 350 degrees. (Baking time will depend whether you use canned pumpkin or frozen pumpkin. Frozen is so keep an eye on it in the last part of the baking time.)