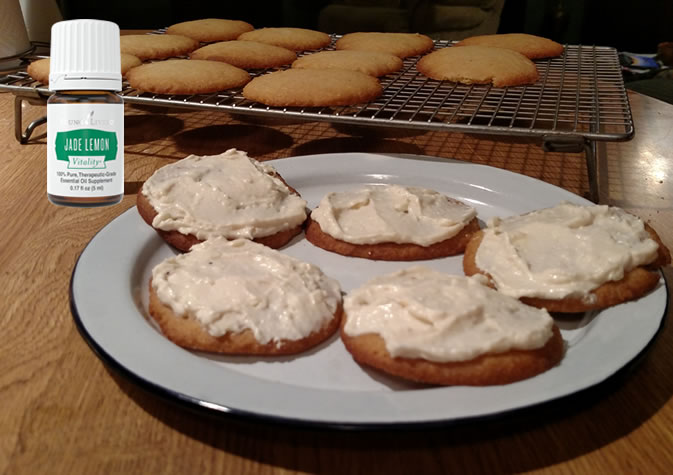 Ingredients
Cookies
1 cup almond flour
1 cup Gary's True Grit Einkorn Flour
1 cup natural sweetener – I used Swerve
2 teaspoons vanilla extract
1/2 teaspoon baking powder
1/2 teaspoon salt
1/2 cup butter, softened
1 egg
3 drops Jade Lemon Vitality Essential Oil
(option: 2 cups almond flour instead of 1 cup each einkorn and almond flour)
Frosting
1/2 cup confectioners/powdered sweetener Swerve has both granular and powdered confectioners)
3 tablespoons cream cheese, softened
4 tablespoons butter, softened
1 teaspoon vanilla extract
6 drops Jade Lemon Vitality Essential Oil
Other oil options: lemon, orange, tangerine, lime, cinnamon, nutmeg, clove, peppermint, ginger
Instructions
Cookies
Using an electric mixer, cream together butter and sweetener. Add eggs, vanilla extract and mix until combined. With the mixer running on low, slowly add baking powder, salt, einkorn and almond flour, beating well after each addition. Cover and chill dough for 1 hour.
Preheat oven to 350. Line baking sheet with parchment paper.
Scoop heaping tablespoons of dough into balls and place on baking sheet; flatten dough balls to form discs covering with plastic wrap and lightly pressing. Space cookies 2 inches apart.
Bake the cookies for 15-18 minutes or until lightly golden. Let cool on baking sheet for 5 minutes and then transfer to wire rack.
Frosting
Whisk together all frosting ingredients until smooth. Whisk in additional sweetener as necessary. When cookies are completely cool, spread frosting onto cookies using butter knife.
Serving size: 1 serving (Total recipe makes 16 servings)
Protein 3.65g, Fat 16.88g, Cals 170, Carbs 3.09g, Fiber 1.50g — NET CARBS: 1.59g
Gary's True Grit Einkorn Flour