As you get older you may notice your skin isn't as plump and as youthful as it used to be. It doesn't bounce back and it may be sagging a bit. The skin looks like it is thinning and wrinkles are showing up.
Collagen is a structural building block for healthy skin, nails, bones, joints, tendons, and other connective tissues. Around 70% of your skin is made from collagen. Collagen is what makes your complexion firm, plump, and youthful, which is why it is so important in anti-aging efforts. It's never too early to start supporting collagen production.
Vitamin C is one of the most important nutrients for supporting collagen. Young Living has 2 kinds of Super C. Vitamin C is one of the most important vitamins required by our bodies. The ingredients in Super C play a role in normal immune and circulatory functions, help to strengthen connective tissues, and promote overall health, vitality, and longevity. Because our bodies cannot manufacture vitamin C, we can benefit by consuming this powerful antioxidant daily.
Super C Chewable combines premium grade Orange essential oil with a proprietary blend of camu camu, acerola, cherry, and rose hips fruit powder to create a powerful immune-supporting supplement. Together, these premium ingredients deliver desirable polyphenols, carotenoids, and optimal amounts of vitamin C in a convenient chewable tablet.
Super C Chewable Tablets 90 ct
Item #3251
Super C Tablets not only contains 1440% of the recommended dietary intake of vitamin C per serving, but it is also fortified with rutin, citrus bioflavonoids, and minerals to balance electrolytes and enhance the effectiveness and absorption of vitamin C.
Super C Tablets 120 ct
Item #3242
Vitamin C is extremely important for collagen production.
NingXia Red has Vitamin C and other antioxidants, which also support collagen production.
While we are out in the environment, we are exposed to toxins which are everywhere, take a burden on our system. That is reflected in our skin. To prevent the free radical damage, antioxidants and bioflavinoids and lots of other good ingredients from a whole food source that supports collagen production.
Juvatone supports a healthy liver. Your liver is getting rid of all the stuff we are exposed to through food and the environment. The liver is one of the body's filters. Sometimes there is too much going on and the liver needs some help.
Skin Exfoliant . Use Young Living Satin Facial Scrub to exfoliate the dead skin cells and assist the turnover of new skin cell production. Exfoliating keeps your skin cells turning over and helps to have a more youthful look. As we age, the skin cells turn over slower and slower. The jojoba beads stimulate circulation which assists in collagen production. You get a glowing look and improving collagen and elasticity of the skin.
AgilEase has frankincense, tumeric, undenatured Type II collagen, Glucosamine sulfate and hyaluronic acid. Supports healthy joints and structure of your body but also the elasticity and plumpness of your skin. AgilEase has undenatured collagen! When collagen is denatured it loses its shape and is not effective.
AgilEase
Item #5764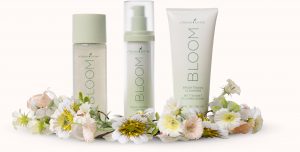 BLOOM by Young Living Brightening Skin Care is infused with the most advanced natural ingredients available to brighten the skin's appearance and add natural radiance. BLOOM products are formulated free of synthetic fragrance—just one more expression of our unwavering commitment to clean beauty. Featuring the Sheerlume Brightening Complex, the BLOOM Brightening Skin Care Collection is loaded with antioxidants to help intensify hydration, minimize the appearance future damage, and help improve the appearance of an even skin tone.
BLOOM™ Brightening Cleanser
3.4 fl. oz., 100 ml Item No. 30291
BLOOM™ by Young Living Brightening Essence
4.7 fl. oz., 140 ml Item No. 30316
BLOOM™ by Young Living Brightening Lotion
1.7 fl. oz., 50 ml Item No. 30267
Essential Oils To Support Collagen Production
Vetiver
Frankincense
Myrrh
Rose
Copaiba
Lemon
Geranium
Carrot Seed
Neroli
Patchouli
Rosehip seed oil
Here are a few DIY skin care recipes.
Mature Skin Serum
3 Tbsp. Jojoba Oil
2 Tbsp Rosehip Seed Oil
2 drops Carrot Seed Oil
3 drops Myrrh
3 drops Frankincense
2 drops Rose
Mix jojoba, rose hip seed oil, and essential oils well in a glass dropper bottle.
Gently roll bottle to mix.
Store in cool, dark place.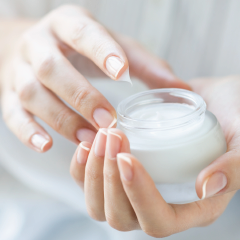 Mature Skin Collagen Support
2 tbsp Jojoba oil
1 1/2 tbsp Rosehip Seed Oil
1/4 tsp Vitamin E
2 drops Frankincense
2 drops Myrrh
2 drops Patchouli
3 drops Vetiver
one dark 1 ounce glass dropper bottle
Place jojoba, rose hip seed oil, and vitamin E into glass dropper bottle.
Add essential oils, close top, and gently roll bottle to mix.
Use 1/4 – 1/2 dropper full of serum nightly on clean face and neck to preserve, smooth, and protect your skin.
Collagen Support Facial Oil
20 drops Frankincense
60 drops Vetiver
2 Tbsp Rosehip Seed Oil
15 ml organic coconut oil.
Directions:
Mix and apply as desired
Facial Serum Recipe
1 drop Rose Essential Oil
2 drops Sandalwood Essential Oil
2 drops Frankincense Essential Oil
1 oz carrier oil of your choice
Directions:
Add essential oils to a 1 oz amber bottle fitted with a glass dropper.
Pour in the carrier oil you are using.
Beautiful Skin Blend
5 drops Sandalwood
5 drops Vetiver
5 drops Geranium
5 drops Lavender
5 drops Frankincense
Mix with Lavender Body Lotion and apply to skin.
A Couple Other Ways to Support Collagen Production:
Supplement with Collagen Peptides.
Drink plenty of water
Do not put any chemical laden skin care products or makeup on your skin.