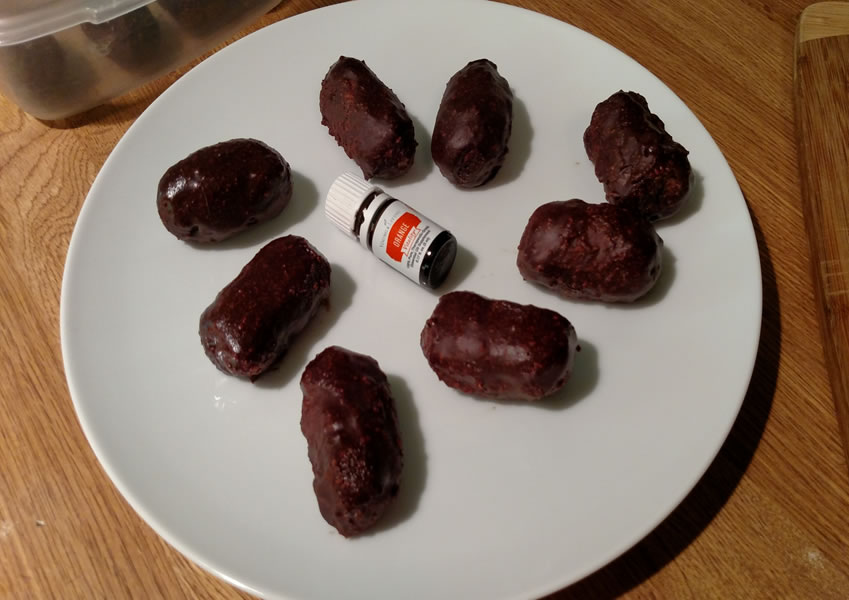 These sugar free, low carb coconut cream filled candies are so tasty you would never know they were really healthy. They are made with a touch of Young Living Orange, Tangerine and Peppermint Vitality Essential Oils. My favorite are the ones flavored with Orange essential oil. Peppermint is a close second. So yummy and guilt free low carb, sugar free snacking.


4 ounces cream cheese
4 Tablespoons butter
1 cup natural sugar substitute (I used a half Monk Fruit and half Swerve)
1 tablespoon vanilla extract
2 1/2 cups unsweetened shredded coconut
Several drops Young Living Vitality Essential Oils: Orange, Tangerine, Lemon, Lime, Peppermint or other.


Chocolate Coating:
4 Tablespoons unsweetened cocoa powder
2 Ounces food grade cocoa butter
5 Tablespoons natural sugar substitute (I used powered Swerve)
1/4 tsp stevia powder (sometimes I use stevia drops)
1 teaspoon vanilla extract


In a large bowl, stir together cream cheese, sweetener, and vanilla extract. Mix in the shredded coconut.
Using about one tablespoon of coconut mixture each, form into a log and set onto a parchment paper or silicon mat lined baking sheet.


Put bars into freezer while making chocolate coating.


In a bowl, mix all the dry ingredients: cocoa powder, natural sweeteners,
In a double boiler, melt cocoa butter. Once the cocoa butter is melted, remove from heat and stir in cocoa powder mixture. Add vanilla extract. Mix well until smooth.


Remove the coconut bars from the freezer.
Place each coconut bar on a fork and dip bottom into melted chocolate. Then use a spoon to drizzle chocolate over top and sides until bar is completely covered in chocolate. Let excess chocolate drip off bottom of fork, then set on non-stick sheet to harden.
Repeat steps until each bar is covered in chocolate.
Place finished sheets of candy in refrigerator.
Let sit at least an hour then remove and place in covered container. Store in refrigerator.


Update: I decided to roll the filling into 2 logs and slice after letting them sit in the fridge. I wanted to make the disk shapes you see in the picture below.


Nutrition Facts:
Makes 20 low carb candy bars
Serving size: 1 bar
Calories: 255
Fat: 23 g
Net Carbs: 1
Net Total carbs: 7g
Protein: 4 g