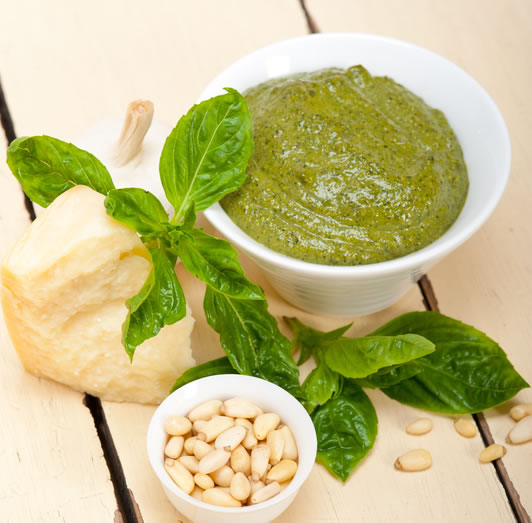 This is a Basil Spinach Pesto recipe you can use with pasta, on bread or sandwiches, salads, chicken or whatever you choose.

Ingredients:
4 cups spinach leaves, washed
1/4 cup of walnuts or pine nuts
1 clove of garlic, peeled
1 teaspoon sea salt
1/8 teaspoon black pepper
1/4 cup Parmesan cheese
1/4 cup extra-virgin olive oil
2-3 drops Basil Vitality Essential Oil


Combine all ingredients in a food processor.
Mix until combined. Scrape sides to get all the spinach leaves, if needed.
Store in airtight glass jar.


You could also freeze this pesto sauce in an ice cube tray. Just pop out a couple of cubes from the freezer and add to a pasta dish for a quick and easy meal. If you freeze the pesto, omit Parmesan cheese and add after thawing.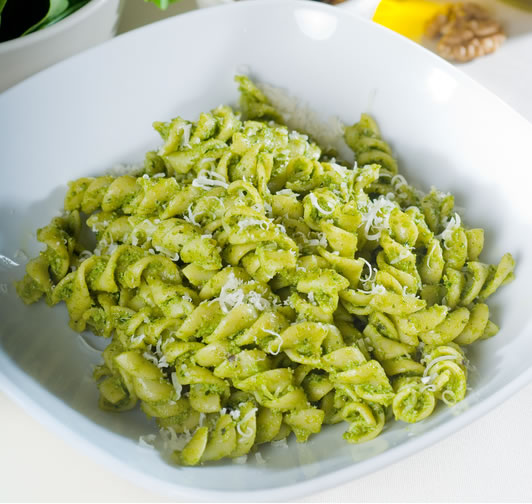 Basil Spinach Pesto Pasta
Ingredients
9 oz Einkorn Rotini Pasta
1 small clove garlic
1/4 cup pine nuts
1 cup Grated Parmesan Cheese
3 tbsp Basil Spinach Pesto (or to taste)
1/4 cup olive oil
2 drops Young Living Lemon Vitality Essential Oil
Cook the pasta in the boiling, salted water according to directions.
Drain and transfer to a large bowl. Add the pesto, Lemon Vitality Essential Oil and toss.
Taste for salt and pepper, and add a drizzle of oil, if you like.