I use Emotional Freedom Techniques every day. I really love it for clearing all kinds of issues that would hold me back. I have cleared lots of fears including a fear of flying. I have released anger and relieved stress and anxiety and a bunch of other negative emotions.
I always add essential oils to EFT sessions to enhance the process. Young Living has several wonderful essential oil blends that work well with emotional issues. They are very mood uplifting and very powerful when dealing with emotional issues.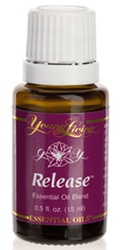 One of my favorite oils to use with Emotional Freedom Techniques is Release essential oil blend.
Release oil blend combines uplifting, calming oils that stimulate a sense of peace and emotional well-being, which in turn facilitates the ability to release anger and frustration. Release promotes harmony and balance in the mind and body, and helps eliminate the adverse effects of repressed emotions on health and wellness. Place three to four drops of Release oil blend over the liver or on the sternum for a grounding effect, and feel increased emotional strength as you let go of the past once and for all.
I have had a couple people tell me that they feel the urge to talk and unload about whatever is bothering them whenever they use Release oil. This just seems like an obvious choice when doing EFT. It is a great one for releasing negative emotions but especially anger.
How to Use Release Essential Oil With EFT:
Apply 1 - 3 drops of Release oil on your fingertips, then tap on the Karate Chop Point with the oiled up fingertips. As you are tapping the EFT Points, you will have enough remaining oil to carry to all the other points.
I really love using Release oil for the "Tap While You Gripe" technique. Just tap and talk until you have unloaded all the negative feelings. It's so liberating.
Try Release oil blend with the EFT session below on releasing negative feelings you feel.
Download the Printable Tapping Script: Releasing Negative Feelings About Myself EFT tapping script
Download the Printable Tapping EFT Points Document
For more EFT sessions, check out 30 Day Self-Esteem Challenge