Every year about this time people start feeling like doing a little spring cleaning. Do you find yourself feeling motivated to freshen things up a bit after a long winter with the house closed up and the furnace or a wood burner running? There is something motivating about the spring. It makes you feel like getting out and doing things. I find myself wanting to give the house a good cleaning.


Most of the cleaning products on the market these days are full of toxic chemicals that are not at all good for your health. That is one thing I love about essential oils. They make such good cleaning solutions.


The Thieves oil blend and Thieves Household Cleaner are a good starting place for cleaning supplies. Thieves is wonderful for cleaning. It also makes everything smell great.


Citrus Fresh has several citrus oils in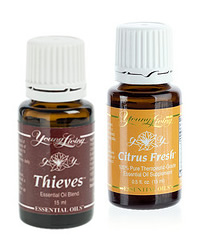 it and is a good one to add to cleaning. It is a good one for diffusing.


Citrus oils are very mood uplifting. Spring cleaning and mood uplifting at the same time.
How can you go wrong?


Make a spray bottle of water with 15-25 drops of Citrus Fresh oil to freshen bathroom or on kitchen surfaces.


Use 1-2 drops of Citrus Fresh oil to remove gum, oil, grease spots or crayon.


Laundry smells fantastic when Citrus Fresh is added to the wash water.


Cleaning Floors
To clean hard floors, add l/4 cup of white vinegar to a bucket of water. Then add 5- 10 drops of Citrus Fresh oil or Purification oil. If the floor is especially dirty, add several drops of dishwashing soap or Thieves Household Cleaner. This will clean even the dirtiest floor.


Furniture Polish
16 ounce spray bottle
Two teaspoons olive oil ( preferably the light kind)
15 drops of essential Citrus Fresh oil
1/4 cup white distilled vinegar
Fill the rest of the bottle with distilled water
How to use:
Spray formula on your rag or directly onto the furniture.
Wipe it dry immediately. The olive oil conditions and the vinegar cleans. You can also squirt some on your dust mop for your hardwood floors


Window Cleaner
1 quart spray bottle
White Vinegar
10-15 drops of Citrus Fresh Essential Oil
Fill bottle half way with vinegar
Fill balance of bottle with water and essential oil.
Shake & Use


Once you finish your spring cleaning, why not have a cup of tea with a couple drops of Citrus Fresh in it. It's Oh So Tasty. ; )