If you care about healthy living, you know that the products we use go way beyond the intended use. What you do today in the name of beauty may affect your health in the years to come.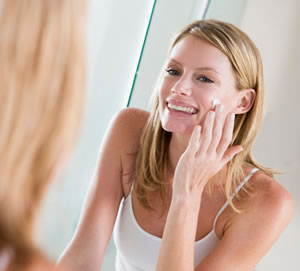 Our skin is our largest organ; it is also the most noticeable. The skin acts as a protective barrier for our body. Many people don't realize how absorbent the skin is. They use all kinds of products that are full of harsh chemical ingredients, which are absorbed by the skin.
Two common ingredients in shampoo, bath products, toothpaste and other skin care products are sodium laurel sulfate and propylene glycol. If you are using products with these ingredients, you are literally soaking and absorbing these chemicals into your body on a daily basis. Every chemical we come in contact with can end up compromising our health.
There are many ways to replace some of the products that are loaded with harsh chemicals in favor of more healthy ones. If you are using Young Living products, you can be sure that you are using products that are safe. Gary has often said, "If you can't eat it, don't put it on your skin."
Below are some recipes you can make to use along with Young Living's personal care products.
Young Living has a product called Bath Gel Base. It allows you to add single essential oils and blends to create your own bath and shower gel fragrance. Product Code #3751
TO STRENGTHEN NAILS
2 drops Wheat Germ oil
2 drops frankincense
2 drops myrrh
2 drops lemon
Rub on nails twice per week to strengthen nails.
FACIAL MUD MASK
2 TBS clay (powdered)
Mineral or floral water (I add 5 droppers Mineral Essence to purified water) – enough to form a paste Mix the clay and water to form a smooth consistency. Add the essential oils. Mix well. Apply with fingertips, avoiding the eye area and hairline. Leave on 10-15 minutes but do not allow to completely dry and crack. Remove the mask with a warm wet wash cloth.
Ideas for oils to add:
geranium, cypress, bergamot, cedarwood, clary sage, eucalyptus, juniper, lavender, rose, patchouli, petitgrain, sandalwood, tea tree and ylang ylang.
Facial Oil
20 drops Ylang Ylang
20 drops Patchouli
15 ml organic coconut oil
Mix and apply as desired
Facial Oil Collagen
20 drops Frankincense
60 drops Vetiver
15 ml organic coconut oil.
Mix and apply as desired
BATH SALTS
8 cups of Epsom Salts
12 drops of Lavender
6 drops of Grapefruit
2 drops of Frankincense
Glass Jar
In a ceramic or wooden bowl with a ceramic or wooden spoon blend ingredients. Store in sealed glass container. Use 1 or 2 cups to the bath water.
Essential Oil Deodorant
3 TBS coconut oil
1 TBS beeswax pellets
1/4 cup cornstarch
1/4 cup baking soda
1 vitamin E capsule
5 drops melaleuca oil
5 drops lavender oil
1 empty 2.65 oz deodorant container
Instructions
Combine coconut and beeswax pellets in a heat proof glass bowl or glass measuring cup. Place bowl or measuring cup in a saucepan filled with an inch of water. Heat mixture over medium heat, stirring occasionally until completely melted. Stir in corn starch, baking soda and one vitamin E capsule. Remove from heat and add essential oils. Quickly pour mixture into an empty deodorant container. Wait for mixture to harden and cool completely before using.
Young Living has a full line of personal care products including shampoo and conditioners, bar soaps, toothpaste, bath and shower gels, skin care, deodorant and many other natural and healthy personal care products.
Young Living has several skin care products with frankincense and other essential oils.