Mineral Essence is one of the supplements from Young Living Essential Oils that I have had on my monthly for over 20 years. I heard Gary Young say, "If you are constantly needing to oil up to lift your mood, you need minerals." That month I added it to my monthly Essential Rewards – autoship order. Mineral Essence makes me feel AMAZING!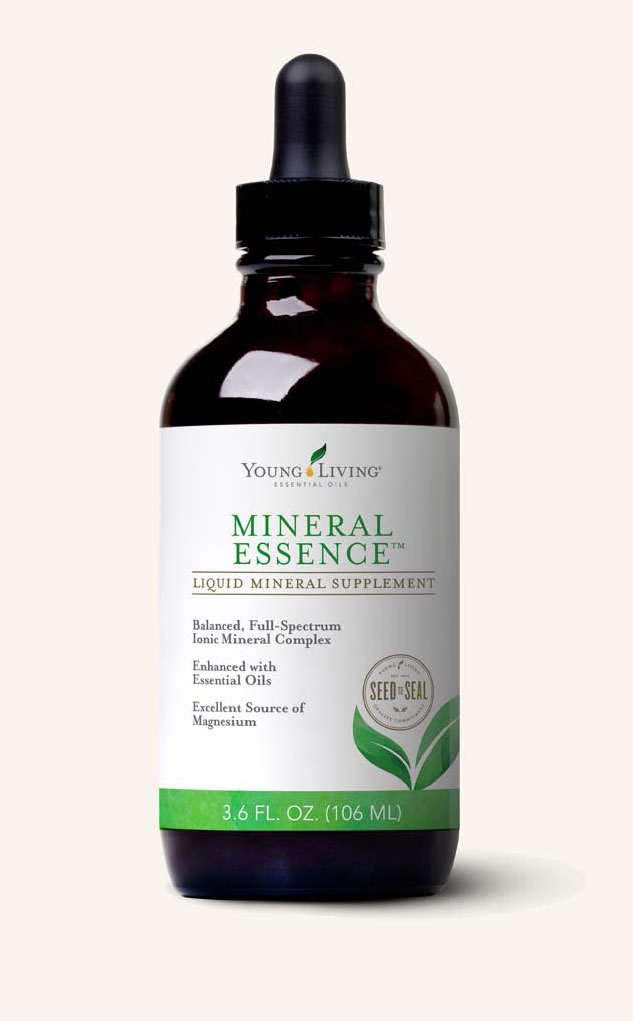 Although we should get most of our minerals from food, so many of our food sources are grown in very nutrient-poor soil and therefore have very little of the minerals previously known to be in our fruits and vegetables. Not only is the soil devoid of most minerals now, it is heavily polluted with chemicals. We must have minerals, vitamins and enzymes for our body to actually carry out its myriad of functions that keep us alive.
Ingredients in Mineral Essence
Mineral Essence is a balanced, full-spectrum ionic mineral complex with over 62 trace minerals in a base of royal jelly as well as cinnamon, lemon and peppermint essential oil. Mineral Essence has one of the most complete mineral profiles available.
Ionic trace minerals in Mineral Essence includes Calcium, Magnesium, Chloride, Sodium, Potassium, Sulfate, Lithium, Boron, Bromide, Carbonate, Fluoride, Silicon, Nitrogen, Selenium, Phosphorus, Iodide, Chromium, Iron, Manganese, Titanium, Rubidium, Cobalt, Copper, Antimony, Arsenic, Molybdenum, Strontium, Zinc, Nickel, Tungsten, Germanium, Aluminum, Scandium, Vanadium, Tellurium, Barium, Tin, Lanthanum, Lead, Yttrium, Silver, Cadmium, Uranium, Gallium, Bismuth, Zirconium, Cerium, Cesium, Gold, Beryllium, Hafnium, Samarium, Terbium, Europium, Gadolinium, Mercury, Dysprosium, Thorium, Holmium, Lutetium, Thulium, Erbium, Ytterbium, Neodymium, Praseodymium, Niobium, Tantalum, Thallium, Rhenium, Indium, Palladium, Platinum. The essential oils enable the ionic mineral complex to be absorbed at the cellular level more easily.
Royal jelly – Is rich in amino acids, minerals and Vitamins B6 and B5. May support healthy endocrine system.
Honey – contains antioxidants, amino acids and vital minerals and vitamins including B vitamins.
Benefits of Young Living Mineral Essence
Full Spectrum
– With 62 trace minerals, Mineral Essence is one of the most complete trace mineral supplements available.
Balanced Synergistic – Not only does Mineral Essence contain an incredibly wide spectrum of different minerals, but each mineral component is precisely proportioned in relation to the others. This is important because too much or too little of one mineral can can disrupt the body's absorption of minerals and other nutrients.
Enhanced Bioavailability – The minerals in Mineral Essence are ionic – a chemical form which maximizes mineral absorption in the intestines. Minerals in an organic or colloidal state are not as readily assimilated. The essential oils included in Mineral Essence further enhance mineral absorption – besides providing other far-reaching benefits.
We Need Minerals
Ionic trace minerals are the most fully and quickly absorbed form of minerals available.
• Without minerals, vitamins and nutrients cannot be absorbed and assimilated by the body.
• Without them, we would lose electrolyte balance in our cells, which would contribute to premature aging.
• Minerals control the acid/alkaline balance (pH) of the tissue fluid.
• Adding minerals alone to the diet has resulted in many cases of regeneration.
• Minerals are the catalysts that make enzyme functions possible.
According to two time Nobel Prize winner Linus Pauling PhD. "You can trace every sickness, every disease, and every ailment to a mineral deficiency." Ionic minerals are the most fully and quickly absorbed form of minerals available.
Benefits of Certain Trace Minerals
• Calcium is essential for healthy bones and teeth, and it assists in blood clotting, muscle contraction, and nerve transmission.
• Chromium assists in the metabolism of glucose and regulates blood sugar.
• Cobalt promotes the formation of red blood cells.
• Copper promotes normal red-blood cell formation and connective tissue formation. By storing and releasing iron, copper contributes to hemoglobin formation; it also contributes to central nervous system function.
• Iodine supports a healthy thyroid and metabolism.
• Iron is important in red blood cell formation and brain function.
• Magnesium supports nerves and muscles and activates over 100 enzymes.
• Molybdenum contributes to growth and development.
• Phosphorous, together with calcium, contributes to healthy bones and teeth.
• Potassium regulates heartbeat, fluid balance, and helps muscles contract.
• Selenium is an essential component of a key antioxidant enzyme as well as being necessary for normal growth and development.
• Sulfur is required for muscle protein and hair.
• Zinc is a mineral found in every fluid, tissue, cell and organ throughout the human body with high concentrates in the brain. Inadequate intake can effect over 200 enzymes involved in digestion, metabolism, reproduction and wound healing.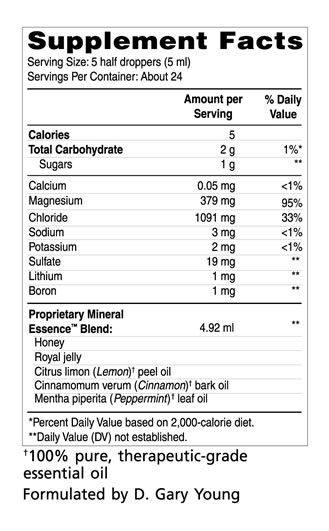 How to Use Mineral Essence
Take 5 half-droppers (1 ml each) morning and evening or as needed as a mineral supplement. May be added to 4-8 oz. of distilled/purified water or juice before drinking.
Some people don't like the taste of Mineral Essence. I personally like the taste but even if I didn't I would find a way to get it down. My body just loves it. I add 5 droppers in a tall glass of water and drink it down in the morning with my Sulfurzyme. All set for a wonderful day. 😉
If you find the taste of Mineral Essence unpleasant, try this idea from Lindsey Elmore:
"Minerals are critical to enzyme function, hormone production, bone building and breakdown, creating long luxurious hair and nails, and transmission of nerve signals.
There is only one caveat. It tastes disgusting. Like a weird oily, cinnamon concoction that can easily make you gag. So taking it can be a challenge. Some people put it in capsules, but it takes a lot of capsules. Some people put it on their skin, but it is super sticky. Some people just grin and bear it, but some just can't."
Mineral Facial Mud Mask
2 TBS clay (powdered)
5 droppers Mineral Essence added to purified water – enough to form a paste
Mix the clay and water to form a smooth consistency. Add the essential oils.
Mix well. Apply with fingertips, avoiding the eye area and hairline.
Leave on 10-15 minutes but do not allow to completely dry and crack.
Remove the mask with a warm wet wash cloth.
Experiences With Mineral Essence
Brenda F. Mineral essence, has helped with my chocolate cravings.
Mara R. I do not love it, but I do love what it does for my body I've now learned to take it straight from the dropper. Still not my fave, but I don't want to miss it! Leg cramps/ muscle spasms under control.
Lisa W. Daily straight on the tongue from the bottle! Minerals are essential to good health!!
Linda L. I love mineral essence now!!! It was really strong tasting at first and hard to take. I put it in my Ningxia or straight from the dropper. It helps me feel better overall…especially with energy and mental clarity.
Rachel J. I know Mineral Essence is a key for helping me ward of sugar cravings. When I am taking 5 half droppers twice a day I have less cravings.