Check out the Young Living Monthly Promo!


Every month Young Living rewards you with FREE products just for ordering. When your order reaches the qualifying PV amount, usually $100, $190, $250 and $300, the oils of the Monthly Promo are automatically added to your Young Living order FREE. You don't have to be enrolled in the Essential Rewards Program to get promo oils but, when you are on Essential Rewards you also get the ER Exclusive Oils. That's even more value for your dollar.


Essential Rewards is the most economical way to order. Not only do you get the ER Exclusive oils but also, when you are on Essential Rewards, you acquire ER Points for every dollar you spend. Redeem your Essential Rewards Points for even more free products. Don't you just LOVE to get good stuff FREE?! The longer you are on the Essential Rewards Program, the higher your ER points will be. Check out the Monthly Promo graphic below.


Taking advantage of Young Living's Monthly Promo along with the Essential Rewards Program is the best way to build up your arsenal of oils, as you are supporting your family's healthy, chemical free lifestyle.


Plus, when you subscribe to YL Go your order is shipped FREE.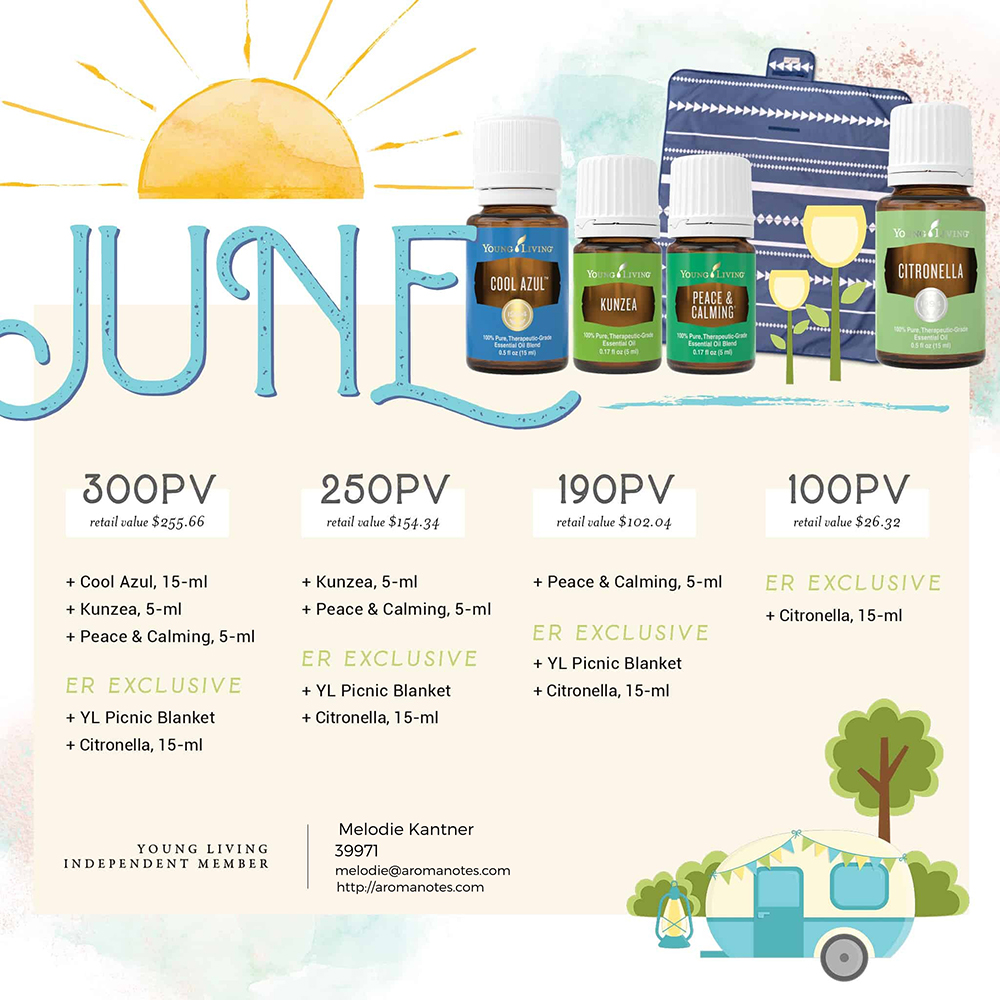 Young Living Monthly Promo Details for April 2020
Free with a 400 PV Order – Retail Value: $224.15
Purification essential oil blend, 15 ml
• Freshen your laundry. Add 2 drops of Purification to wool dryer balls, be sure to let dry fully, and toss in with your load for great-smelling clothes.
• Banish bathroom odors. Moisten a cotton ball with a drop or two of Purification and stash between the trash can and liner.
Premium dryer balls
• Go green in the laundry room. Unlike single-use dryer sheets, this set of four wool balls can be used over and over again to reduce drying time and static cling. Any essential oils added to the balls must dry fully before the balls are put in the dryer.
• Support someone's fresh start. These dryer balls and the cotton bag they come in provide fair wages to women in Nepal, many of whom are single mothers, widows, and survivors of trafficking.
Cinnamon Bark essential oil, 5 ml
• Make stuffy spaces feel cozy. Add 4 drops of Cinnamon Bark to a glass spray bottle filled with water and use as a room spray to refresh stale air.
• Make dish duty smell yummy. Put a few drops of Cinnamon Bark in your dish soap for a warm, spicy scent that smells good enough to eat.
Lemon essential oil, 15 ml
• Get rid of gunk. Dampen a cloth with 2 drops of Lemon and use it to rub away residue left behind by stickers, labels, and glue.
• Add some cheer to chores. Diffuse Lemon for an uplifting and energizing aroma as you tackle tough messes.
Clove essential oil, 15 ml
• Spice up your cleaning routine. Add a few drops of Clove to your cleaning products for a warm, cozy scent.
• Refresh your rugs. Make a natural rug deodorizer with 2 cups baking soda and 10–15 drops of Clove or any other essential oil.
Tea Tree essential oil, 15 ml
• Tackle tough stains. Make your own sink and shower scrub with 10 drops Tea Tree, 1 cup baking soda, and 1/4 cup dish soap.
• Make bad smells a memory. If your towels still smell after washing, spray them with a mixture of 1/2 cup water, 1/4 cup witch hazel or rubbing alcohol, and 30 drops Tea Tree.
Branded spray bottle (Essential Rewards Exclusive)
• Dabble in DIY. Instead of compromising on iffy ingredients, blend your own botanically based cleaners in this spray bottle.
• Clean with confidence. Thanks to the dilution chart on the back of the bottle, you can ditch any doubt when using Thieves Household Cleaner.
Eucalyptus Radiata essential oil, 15 ml (Essential Rewards Exclusive)
• Kick out kitchen stink. Diffuse Eucalyptus on its own or with Lemon and Rosemary to get that clean kitchen scent—even if you still have dirty dishes in the sink.
• Make clean smell green. If you don't love the smell of your vinegar-based cleaning recipes, infuse them with the spa-like scent of Eucalyptus Radiata.

Free with a 300 PV Order – Retail value: $148.62
Cinnamon Bark essential oil, 5 ml
Lemon essential oil, 15 ml
Clove essential oil, 15 ml
Tea Tree essential oil, 15 ml
Branded spray bottle (Essential Rewards Exclusive)
Eucalyptus Radiata essential oil, 15 ml (Essential Rewards Exclusive)


Free with a 250 PV Order – Retail value: $116.05
Lemon essential oil, 15 ml
Clove essential oil, 15 ml
Tea Tree essential oil, 15 ml
Branded spray bottle (Essential Rewards Exclusive)
Eucalyptus Radiata essential oil, 15 ml (Essential Rewards Exclusive)


Free with a 190 PV Order – Retail value: $80.20
Tea Tree essential oil, 15 ml
Branded spray bottle (Essential Rewards Exclusive)
Eucalyptus Radiata essential oil, 15 ml (Essential Rewards Exclusive)


Free with a 100 PV Order – Retail value: $25
Eucalyptus Radiata essential oil, 15 ml (Essential Rewards Exclusive)