Stress is a normal part of our modern life. We live in a fast paced high stress world. Our modern lifestyles add more daily stress than our bodies are made to handle. Studies have shown that modern, everyday stresses, if left unchecked, can negatively impact our health.
There are also times when we go through times of higher levels of stress. We need ways to relieve every day stress but even more so when we are going through times of higher levels of stress. Essential oils can be one way to help with that. Young Living has many wonderful oils for this purpose. You may have some on hand. Whatever your favorite calming oils you have, you can use them topically, diffuse or with EFT. More on EFT at the bottom of this post.
Here are a few good oil options when you need to relax during times of stress:
Stress Away
Peace & Calming
Tranquil
Harmony
Valor
Jasmine
Joy
Hope
Envision
Believe
Release
Transformation
White Angelica
Citrus Oils
Lavender
Cedarwood
Valerian
Roman Chamomile
Rose
Ylang Ylang
There are a lot of other good choices of oils for stressful times. These oils can be used in diffuser, make up roller bottles, make bath salts, used topically and many other ways. Plus . . .
Any of these oils can be used with EFT (Emotional Freedom Techniques. Just add a couple drops of essential oil to your fingertips before you begin tapping through the points.
Tap While You Gripe is one of my favorite ways to use Emotional Freedom Techniques. It is a super simple technique. Just tap and tell the story. Focus on the negative feelings and tap and talk it through.
Example: While tapping through the points, say: "I am so stressed. We are stuck at home. We are under a stay at home order and the kids are driving me crazy! This is so scary! …." Tap through the points and pour out your feelings. Keep going until you feel better. Once you have released enough of the negative feelings, switch to positive. End with some thoughts on strength and confidence or anything positive you want to feel.
Don't get too worried about the exact wording you use or what order of points to tap. You don't even really need to say the words out loud. Just focus on the negative emotion you want to clear. Keep talking and tapping.
EFT Points:
KC = Karate Chop
EB = Beginning of the Eye Brow
SE = Side of the Eye
UE = Under the Eye
UN = Under the Nose
Ch = Chin
CB = Beginning of the Collar Bone
UA = Under the Arm
WR = Inside of Wrists
TH = Top of Head
You can also tap the fingertip points. Each finger can be tapped at the base of the nail.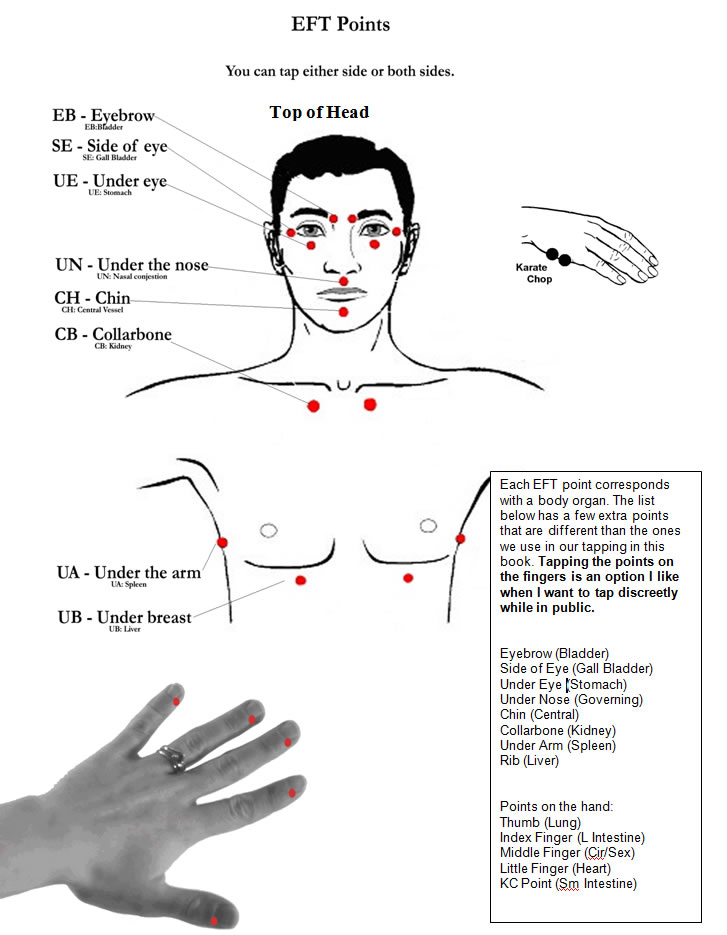 For more on EFT:
https://www.melodiekantner.com/eft-how-can-it-help-network-marketing-business/