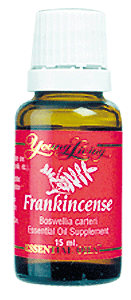 I remember Gary Young commenting that, if he could only choose one oil to use, it would be frankincense. Frankincense essential oil is one of the most versatile and powerful essential oils and its no surprise why it is commonly called, "The King of Oils." I go through Frankincense faster than any other essential oil because it is so effective AND versatile! I love the way my skin feels and looks when I add it to my beauty routine. If you are ever wondering what oil to use, Frankincense is almost always a good choice!


Here are a few good ways to use Frankincense essential oil.

1. Uplifting – Frankincense is nice for you need a bit of an uplift to your mood. Some days are like that Wear it like a perfume and inhale. Frankincense is a good essential to diffuse.


2. Stress Relief – Apply to temples or wear as perfume. Inhale. Promotes feelings of relaxation and tranquility.


3. Supports and maintains the appearance of healthy-looking, radiant skin. Especially beneficial for mature complexions. Frankincense is a main ingredient in Young Living skin care products like ART Skincare, Sheerlume and several others.

Massage a drop of Frankincense into facial skin after cleansing, followed by applying your regular moisturizers.
Add a few drops to your face cream or body lotion and rub directly into skin.
Massage into the skin on hands and feet after a long day to restore skin's texture.

4. Helps alleviate minor aches associated with daily life – Rub on areas of discomfort after a busy day.


5. Clean Cuts and Scrapes – Apply a drop of Frankincense to small cuts and scrapes to clean.


6. Support a Healthy Immune System – Take Frankincense Vitality 1-2 drops in a clear vegetable capsule as a supplement. You can also add to water, juice or NingXia Red.


Never take oils internally unless you are using Young Living Oils. Many oils are adulterated even though labeled 100% PURE.